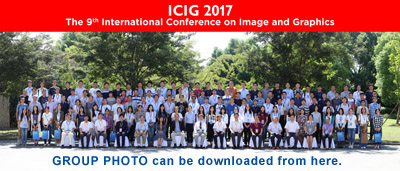 论文集链接网址
The 9th International Conference on Image and Graphics (ICIG) will be held in the ZTE Hotel (Shanghai), China, on September 13 - 15, 2017. ICIG is the biennial conference organized by China Society of Image and Graphics (CSIG), focusing on innovative technologies of image, video and graphics processing and fostering innovation, entrepreneurship, and networking. It will feature world-class plenary speakers, exhibits, and high quality peer reviewed oral and poster presentations.





Host
Organizer
Co-Organizers
Supports
| | |
| --- | --- |
| | |
| ICIG2017 | CSIG |
Download: Call for Paper


Copyright © ICIG 2017. All rights reserved.

京公网安备 11010802035654号 京ICP备12009057号-2